You are here:
OWON
/ Products / owon hds200 series digital oscilloscope
OWON HDS200 Series Digital Oscilloscope
+ Oscilloscope + multimeter + waveform generator, multifunction in one
+ 3.5-inch high-resolution, high-contrast color LCD display, suitable for outdoor use
+ 18650 lithium battery, comprehensive power consumption ≤3W, can work continuously for about 6 hours
+ USB Type-C interface, support power bank, support PC software connection
+ Self-calibration function
+ SCPI supported, facilitate secondary development
Send Inquiry
Product Details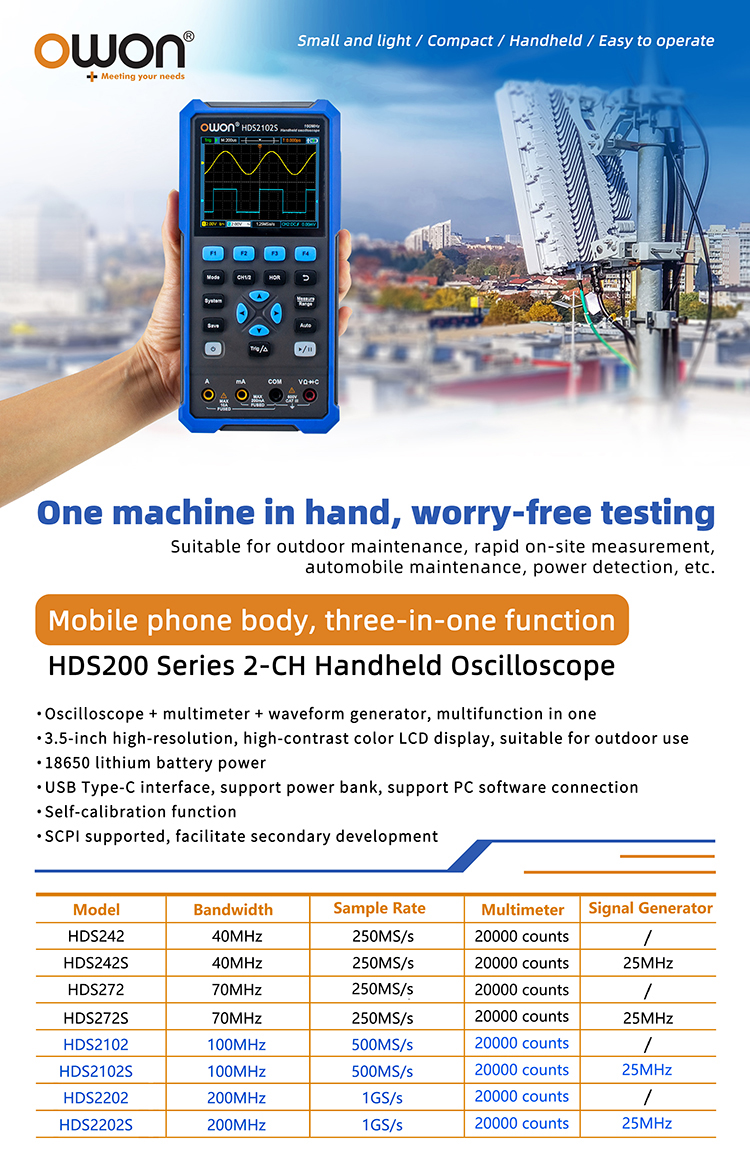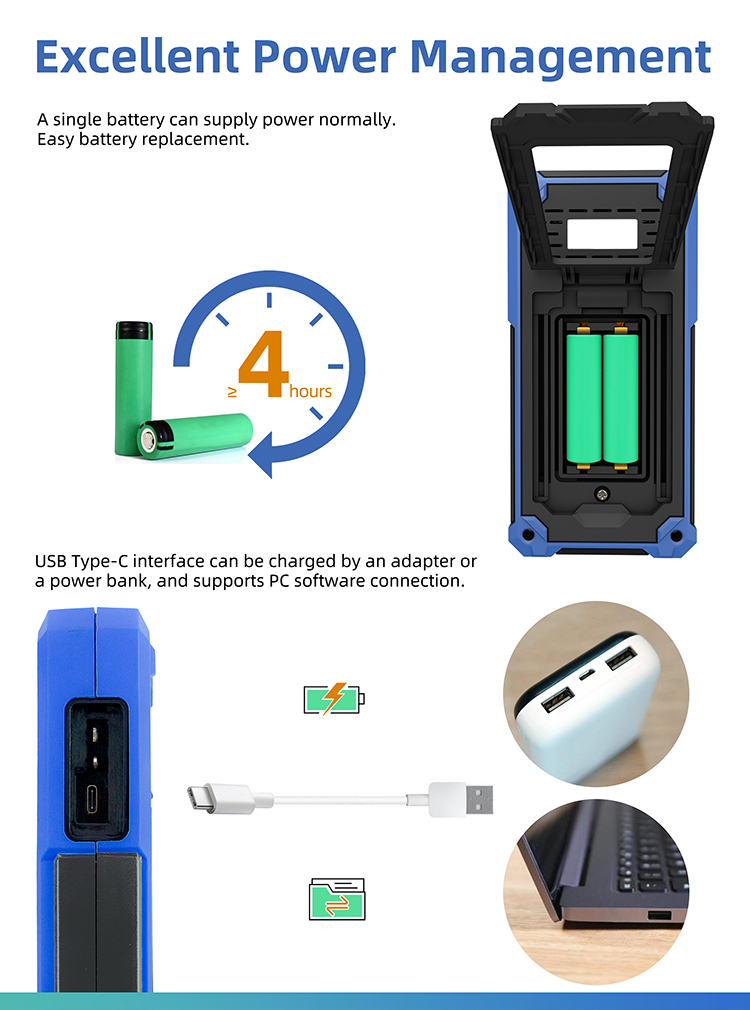 Video
Specifications
「Oscilloscope」Specifications
Model
HDS242
HDS272
HDS242S
HDS272S
Bandwidth
40MHz
70MHz
40MHz
70MHz
Channels
2-CH Oscilloscope
2-CH Oscilloscope+1-CH Generator
Sample Rate
250MSa/s
Acquisition Model
Normal, Peak detect
Record Length
8K
Display
3.5-inch LCD
Waveform Refresh Rate
10,000 wfrms/s
Input Coupling
DC, AC, and Ground
Input Impedance
1 MΩ±2%, in parallel with 16pF±10pF
Probe Attenuation Factors
1X,10X,100X,1000X
Max. input Voltage
400V (DC+AC, PK-PK, 1MΩ input impedance) (10:1 probe attenuation)
Bandwidth Limit (typical)
20MHz
Horizontal Scale
5ns/div - 500s/div, step by 1 - 2 - 5
Vertical Sensitivity
10mV/div - 10V/div
Vertical Resolution
8 bits
Trigger Type
Edge
Trigger Modes
Auto, Normal, single
Automatic Measurement
Period, Frequency, Mean, PK-PK, Max, Min
Cursor Measurement
ΔV, ΔT, ΔT&ΔV between cursors,auto cursor
Communication Interface
USB Type-C
「Multimeter」Specifications (Standard)
| | |
| --- | --- |
| Max. Resolution | 20,000 counts |
| Testing Mode | Voltage, Current, Resistance, Capacitance, Diode ,and Continuity test |
| Input Impedance | 10MΩ |
| Max Input Voltage | AC 750V, DC 1000V |
| Max Input Current | DC : 10A AC : 10A |
| Diode | 0 - 2V |
「Waveform Generator」Specifications (Only for HDS242S & HDS272S)

Frequency Output
Sine
0.1Hz - 25MHz
Square
0.1Hz - 10MHz
Ramp
0.1Hz - 1MHz
Pulse
0.1Hz - 5MHz
Arbitrary
0.1Hz - 5MHz
Sampling Rate
125MSa/s
Channel
1-CH
Amplitude Range
20 mVpp - 5 Vpp
Waveform Length
8K
Vertical Resolution
14bits
Output Impedance
50Ω
Support
Accessories
The accessories subject to final delivery.
Quick Guide

Probe Adjust

Multimeter Lead

Soft Bag

Bolt Driver

Probe

BNC to Alligator Clip
Inquiry