You are here:
OWON
/ Products / owon xds3000-e series 4ch 8 / 14bit touchscreen digital oscilloscope
OWON XDS3000-E Series 4CH 8 / 14bit Touchscreen Digital Oscilloscope
+ 60MHz - 200MHz Bandwidth,1GS/s sample rate
+ 8-bit or 14-bit high resolution ADC
+ 40M record length max 70,000 wfms/s waveform refresh rate
+ low back ground noise
+ 8 inch 800 x 600 high resolution LCD, optional multi-touch screen, more user-friendly operation experience
+ SCPI, and LabVIEW supported
+ multi- trigger, and bus decoding function
+ multi-interface integration - USB host, USB device, USB port for PictBridge, LAN, AUX, and VGA
Send Inquiry
Product Details
1. Multi-function mobile tester
Oscilloscope + signal generator + multimeter +data logger +frequency counter + decoder. Support Li-on battery to implement floating test.

2. Leading 45,000 frame/sec waveform refresh rate, muti-level gray scale and color temperature display.

3. WiFi function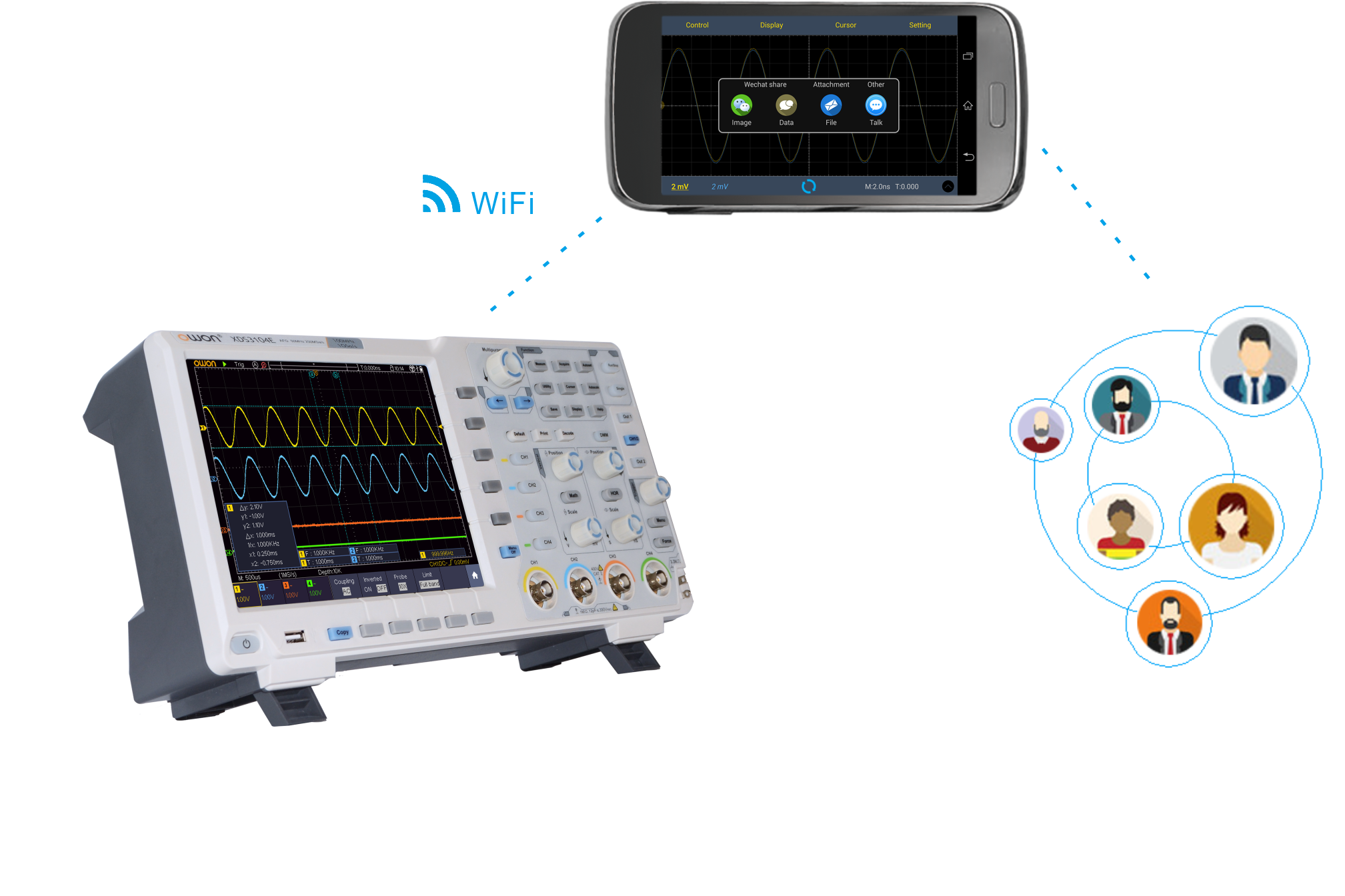 4. Multi-touch screen, easy to operate
Video
Specifications
Model
XDS3064E
XDS3104E
XDS3064AE
XDS3104AE
XDS3104
XDS3204E
XDS3204AE
Bandwidth
60MHz
100MHz
60MHz
100MHz
200MHz
Sample Rate
1GS/s
1GS/s (500MS/s for each channel)
1GS/s
Vertical Resolution (A/D))
8 bits
14 bits
8 bits
14 bits
Record length
40M
Waveform Refresh Rate
45,000 wfms/s
70,000 wfms/s
Horizontal Scale (s/div))
2ns/div - 1000s/div, step by 1 - 2 - 5
1ns/div - 1000s/div, step by 1 - 2 - 5
Channel
4
Display
8" color LCD, 800 x 600 pixels display
Sample Rate / Relay Time Accuracy
±2.5 ppm
Input Coupling
DC, AC, GND
Vertical Sensitivity
1mV/div - 10V/div (at input)
Trigger Type
Edge, Video, Pulse, Slope, Runt, Windows, Timeout, Nth Edge, Logic, I2C, SPI, RS232,
and CAN (optional)
Bus Decoding(optional)
I2C, SPI, RS232, CAN
Trigger Mode
Auto, Normal, and Single
Vertical Range
±2V(1mV/div~50mV/div);±20V(100mV/div~1V/div);±200V(2V/div~10V/div)
Waveform Math
+, -, *, /, FFT, Intg, Diff, Sqrt, and user defined function
Communication Interface
USB host, USB device, USB port for PictBridge, Trig Out (P/F), LAN, and VGA (optional)
Frequency Counter
available
Power Supply
100V - 240V AC, 50/60Hz, CAT II
Fuse
2A, T class, 250V
Battery (optional)
3.7V, 13200mA
Dimension (W x H x D)
340mmx177mmx90mm
Optional Module / Function
VGA
VGA+AV port
WIF
Wifi
AWG
arb waveform generator (only apply to XDS3104E 、XDS3064E,XDS3014, XDS3204E)
DMM
digital multimeter
MTS
Touch screen(capacitor-type)
Optional Decoding Kit
RS232
RS232
SPI
SPI
I2C
I2C
CAN
CAN

Support
Accessories
The accessories subject to final delivery.
Power Cord

CD Rom

Quick Guide

USB Cable

Probe

Probe Adjust

Capacitance Ext Module (optional)

Multimeter Lead (optional)

Q9 (optoinal)

Soft Bag (optional)

Battery (optional)
Inquiry